Avison Young commits to CREW Network's CRE Pledge for Action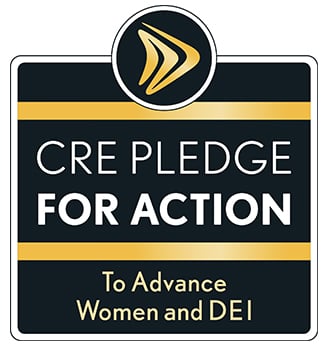 September 28, 2021
The effort aims to increase workforce diversity in commercial real estate.
Avison Young CEO Mark E. Rose joins hundreds of commercial real estate leaders who have signed on to CREW Network's CRE Pledge for Action.
The pledge asks CEOs to support the advancement of women and other individuals in underrepresented groups (including those marginalized because of race, ethnicity, sexual orientation, ability, religion, and age) through commitment to four key goals:
Close the compensation gap in our industry by conducting a pay equity study in our company.
Increase inclusion in our company through senior executive sponsorship of women and/or individuals in underrepresented groups within the company.
Advance women to our company's top roles to achieve gender diversity in leadership.
Increase diversity in our company and in the industry by intentionally recruiting and hiring individuals from diverse backgrounds.
CREW Network's CRE Pledge for Action aligns perfectly with Avison Young's existing efforts to "walk the talk" of DEI and commit to the critical diversity and inclusion our industry needs.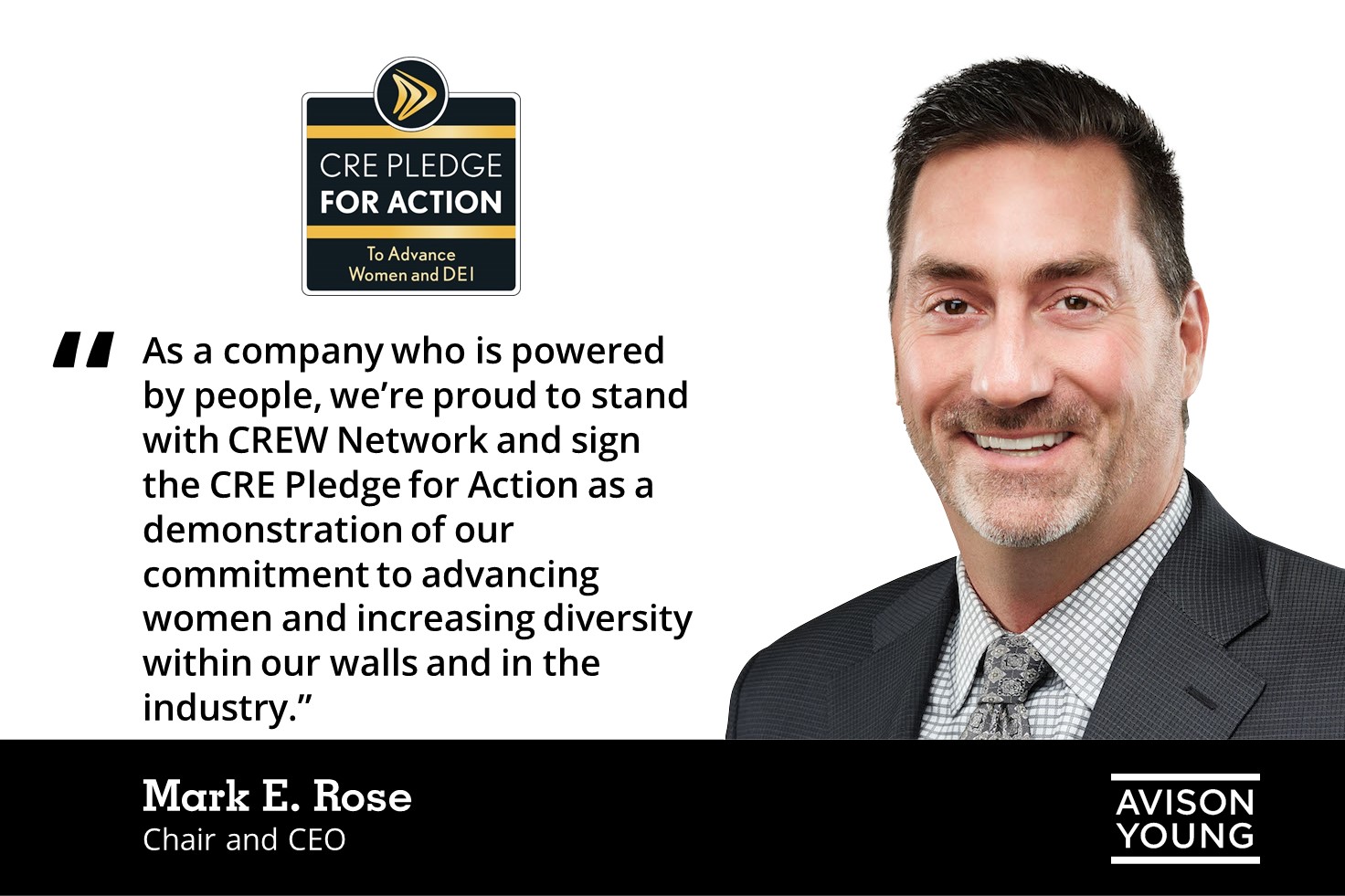 For the last decade, the firm has focused its D&I efforts to advance diversity among its Board and management ranks. Building on and growing those efforts, in the last year alone, Avison Young has:
Established a global D&I Advisory Council to lead workforce diversity initiatives, consisting of 20 individuals from all areas of the business.
Assessed our current state of DEI and mapped out plans to bridge existing gaps.
Added to our Employee Resource Groups, expanding our Women's Network and IDEA Group (LGBTA+) and created a Black Professionals Resource Group.
Conducted multiple global townhall conversations on topics related to inclusion and deepening our understanding of others, such as Building more inclusive workplace cultures and supporting our LGBTQ+ colleagues in true allyship.
Trained our 23-person executive leadership team on inclusive leadership and made D&I training accessible to all staff through our internal learning platforms.
Dedicated our 2020 dAY of listening, learning and action to learning about systemic racism, building on earlier company-wide anti-racism sessions.
According to a 2020 CREW Network benchmark study, the following still holds true industry-wide:
Women earn 10% less than men in base salaries and 56% less in commission/bonuses.
Women occupy approximately 37% of the industry.
Women hold just 9% of C-suite positions.
Only 16% of CRE workplaces have 25% or more staff that are Black, indigenous and people of color (BIPOC).
For more than 30 years, CREW Network has made advancing women and diversity in CRE their collective aim and mission.
Avison Young believes that for commercial real estate to meet the needs of the future, it must be powered by people who represent and embrace a diversity of perspectives and thinking.
We know there's work to do – within our own walls and as an industry – and we're committed to do all we can, including signing on to this CREW Network pledge, to drive needed progress and keep us moving forward in the right direction.
Avison Young creates real economic, social and environmental value as a global real estate advisor, powered by people. As a private company, our clients collaborate with an empowered partner who is invested in their success. Our integrated talent realizes the full potential of real estate by using global intelligence platforms that provide clients with insights and advantage. Together, we can create healthy, productive workplaces for employees, cities that are centers for prosperity for their citizens, and built spaces and places that create a net benefit to the economy, the environment and the community.
Avison Young is a 2021 winner of the Canada's Best Managed Companies Platinum Club designation, having retained its Best Managed designation for ten consecutive years.