Avison Young contributes to World Green Building Council's new Health & Wellbeing Framework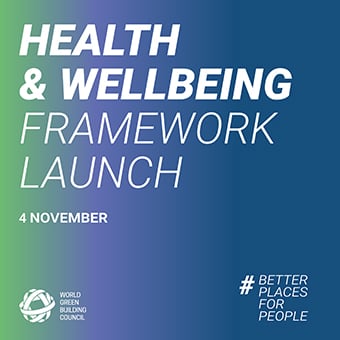 November 4, 2020
Framework aims to redefine the scope of health and wellbeing in the built environment across the value chain
Toronto, ON – Avison Young today announced it has contributed to the development of the World Green Building Council's (WorldGBC) new Health & Wellbeing Framework, an educational resource for the building and construction sector. With the Framework, WorldGBC and its partners, including Avison Young as a Silver Sponsor, are helping provide comprehensive educational resources for the sector to drive healthy and equitable buildings for everyone, everywhere.
As Cristina Gamboa, CEO of WorldGBC noted: "In the past, we only considered the health and wellbeing of the occupiers — or 'end users' — of buildings. But this is only part of the picture. We must consider the impacts across the entire value chain."
After a multi-year global consultation, the Framework was unveiled today during a free online summit where WorldGBC and industry experts and health and sustainability leaders shared the principles that led the Framework. With the COVID-19 pandemic bringing the link between the built environment and human health into focus, the Framework's six principles span indoor air quality, human rights in the supply chain, climate change resilience and more.
"Building better places for people is fundamentally aligned to Avison Young's purpose to create real economic, social and environmental value, powered by people," said Amy Erixon, President of Global Investment Management, and lead of the firm's Global Citizenship group. "We were honoured to contribute to this innovative Framework as occupiers, owners and investors are recognizing that health and wellbeing is not just a co-benefit of environmentally sustainable buildings, but a goal worth pursing on its own merits."
An innovation in the Framework is a cross-sector analysis across the entire building and construction lifestyle – redefining the scope of health for all people and their buildings, cities and communities. Further, it is founded in the UN's Global Goals for Sustainable Development (SDGs).
"As a live educational tool that will be updated regularly, it was a key consideration that the resources be applicable to the entire value chain," said James Matthews, a Senior Sustainability Consultant and WELL Accredited Professional at Avison Young, who provided input into the Framework. "Now more than ever we should be investing in and creating healthier spaces to improve our physical and mental wellbeing."
Avison Young recently announced it adopted the UN SDGs alignment protocol as the firm expands its Environmental, Social and Governance (ESG) and Wellness strategy. In addition, the firm's Global Investment Management group has become a signatory to the UN Principles for Responsible Investment (PRI). Earlier this year, the firm announced it will reduce carbon emissions to net zero in all its U.K. occupied buildings by 2030. These steps and others are featured in Avison Young's 2019 Global Citizenship Report.
Avison Young creates real economic, social and environmental value as a global real estate advisor, powered by people. As a private company, our clients collaborate with an empowered partner who is invested in their success. Our integrated talent realizes the full potential of real estate by using global intelligence platforms that provide clients with insights and advantage. Together, we can create healthy, productive workplaces for employees, cities that are centers for prosperity for their citizens, and built spaces and places that create a net benefit to the economy, the environment and the community.
Avison Young is a 2020 winner of the Canada's Best Managed Companies Platinum Club designation, having retained its Best Managed designation for nine consecutive years.
Follow Avison Young
Twitter (News) │ Twitter (Deals) │ Blog │ LinkedIn │ YouTube │ Instagram
For more information:
Kate Murphy, Global Director of External Communications: +1.704.413.0234