Back to the Office: Legal and Workplace Trends in Rethinking the Tenant Experience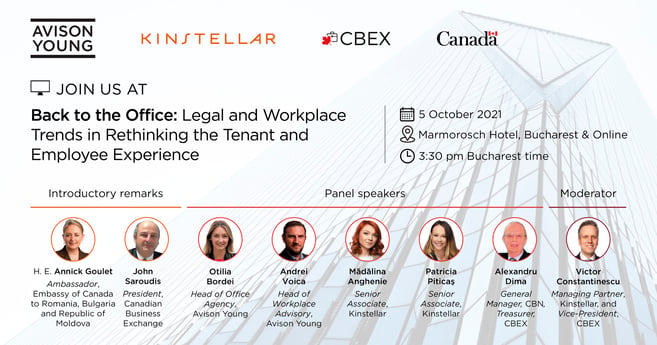 24 Sep 2021
Avison Young, Kinstellar, CBEX and the Embassy of Canada to Romania invite you to an event focusing on the returning to work legal concerns and trends.
We are pleased to invite you to a hybrid event that will focus on the topic of returning to work. The "Back to the Office: Legal and Workplace Trends in Rethinking the Tenant Experience" event will take place on Tuesday, October 5th 2021 at the Marmorosch Hotel, starting with 3.30 pm EEST and will also be broadcast online via Zoom.
If you would like to attend, please send a confirmation email at [email protected] or register for the online attendance at: https://us02web.zoom.us/webinar/register/WN_GvhT_0fsT-CE8bgTM0kgZw .
The event aims at setting the scene on the multiverse of work - what we have learned from last year and what is going on today for landlords, tenants and employees, what are employees' expectations and worries in returning to work, and how can companies create healthy and attractive workplaces, while at the same time respecting legal requirements.
The event will enjoy the presence of Her Excellency Annick Goulet, Ambassador of Canada to Romania, Bulgaria and Republic of Moldova, and John Saroudis, President, Canadian Business Exchange (CBEX), while attendees will benefit from the expertise of: Otilia Bordei, Head of Office Agency, Avison Young; Andrei Voica, Head of Workplace Advisory and Project Management, Avison Young; Mădălina Anghenie, Senior Associate, specialized in Employment and Labour Law, Kinstellar Bucharest; Patricia Piticaș, Senior Associate, specialized in Employment and Labour Law, Kinstellar Bucharest; Alexandru Dima, General Manager, CBN, Treasurer, CBEX.
Moderator of the event will be Victor Constantinescu, Managing Partner, Kinstellar Romania, and Vice-President, CBEX.
The speakers will tackle the subjects: the legal aspects of today's new working styles and the trends in optimizing the employee experience. Key topics:
On the multiverse of work: what we have learned from last year and what is happening today

What do employees want?

What is the right mix for hybrid work today?

Various legal concerns spurred by the pandemic, including vaccination requirements, cyber security and others
Agenda:
Introductory Remarks: H.E. Annick Goulet, Ambassador, Embassy of Canada to Romania, Bulgaria and the Republic of Moldova, John Saroudis, President, Canadian Business Exchange
Panel Discussion
Conversation participants:
Otilia Bordei, Head of Office Agency, Avison Young

Andrei Voica, Head of Workplace Advisory and Project Management, Avison Young

Mădălina Anghenie, Senior Associate, specialized in Employment and Labour Law, Kinstellar Bucharest

Patricia Piticaș, Senior Associate, specialized in Employment and Labour Law, Kinstellar Bucharest

Alexandru Dima, General Manager, CBN, Treasurer, CBEX

Moderator: Victor Constantinescu, Managing Partner, Romania, and member of firm management committee, Kinstellar, Vice-President CBEX
Concluding Remarks and Questions
Attending the event is free of charge. Please email us at [email protected] to reserve your spot, or register for the online event at: https://us02web.zoom.us/webinar/register/WN_GvhT_0fsT-CE8bgTM0kgZw